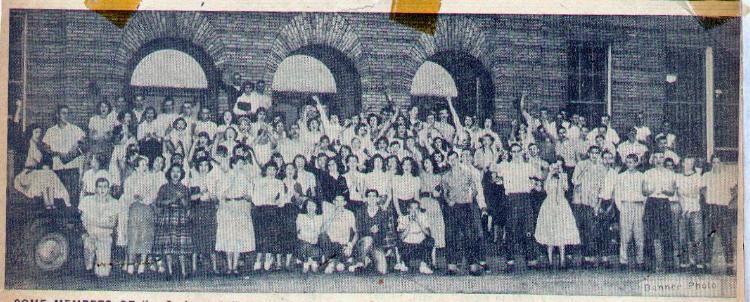 The Class of 1955

WILDCATS ON STRIKE
Banner Photo
Submitted by Dan Bates
Photo and article used by permission of the Logan Banner
October 8, 1954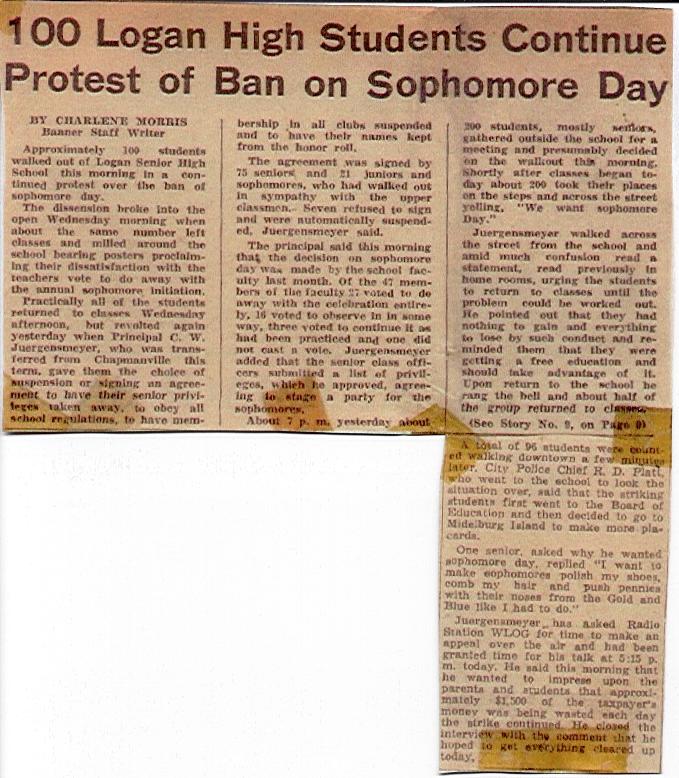 "THE MAGNIFICENT SEVEN
HALL OF FAME"

The Class of '55 was pretty progressive for 1954! Things like that just were not done in the 1950s! Did you participate? Seven people were supposedly kicked out of school for refusing to sign the agreement. Do you remember who the "magnificent seven" were? What penalties did you pay for your "disgraceful and shameful" behavior? This is your chance to speak out (as long as you respect the privacy of others and as long as is done for fun and does not hurt anyone.)

Phyllis Ross wrote:
Can anyone tell me the names of the
other SIX of "The Magnificent Seven"?

Peggy White has "fessed up'!!
She didn't sign the agreement.
She simply went back to class after a few days.
There were no penalties for not signing the agreement!

If you would like to "fess up" and "come clean", Email me (you all have the address). I will then add you to the MAGNIFICENT 7 Hall Of Fame. OR you may enter your "confession" in our Memories guestbook.
WILDCATS SIGN Guestbook

WILDCATS VIEW Guestbook
Be sure to PREVIEW and then SUBMIT when signing guestbook!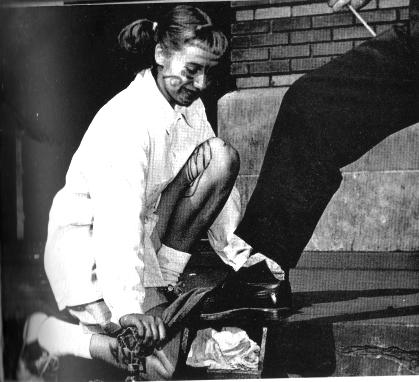 NOBODY remembers Sophomore Day more vividly than yours truly. That is lipstick all over me! (Put there by Seniors). I even tried scrubbing it with lye soap and it didn't come off! This picture was in the 1953 Guyana. (That's Alex Szucs getting a shoe shine).

Back To Index Page
You are visitor #
Since November 14, 2005